I make no secret of the fact that I think the following things are pretty rad:
(1) Melbourne
(2) Young adult fiction
Therefore, it probably goes without saying that I love reading YA set in Melbourne.. but I'll say it anyway. I love it.
For a while now I've been kicking around ideas as to how best to share the Melbs YA love. And I thought that since some of you can't come to Melbourne, I would bring Melbourne to you – via YA.
I've decided to take a book by book approach because, while some of them inevitably share settings, I tend to think about these places in the context of the individual stories and their characters.
Kicking things off: Six Impossible Things by Fiona Wood. (If you haven't read it yet, please do. It really is a gorgeous book. In the meantime, check out Maggie's hilarious review over at YA Anonymous, or Flannery's at The Readventurer.)
Welcome to Dan Cereill's world.
(At one point in the book Dan runs from Fitzroy, through the city to the Botanical Gardens, around The Tan, then back to Fitzroy. That's roughly 10 kilometres, or just over 6 miles.)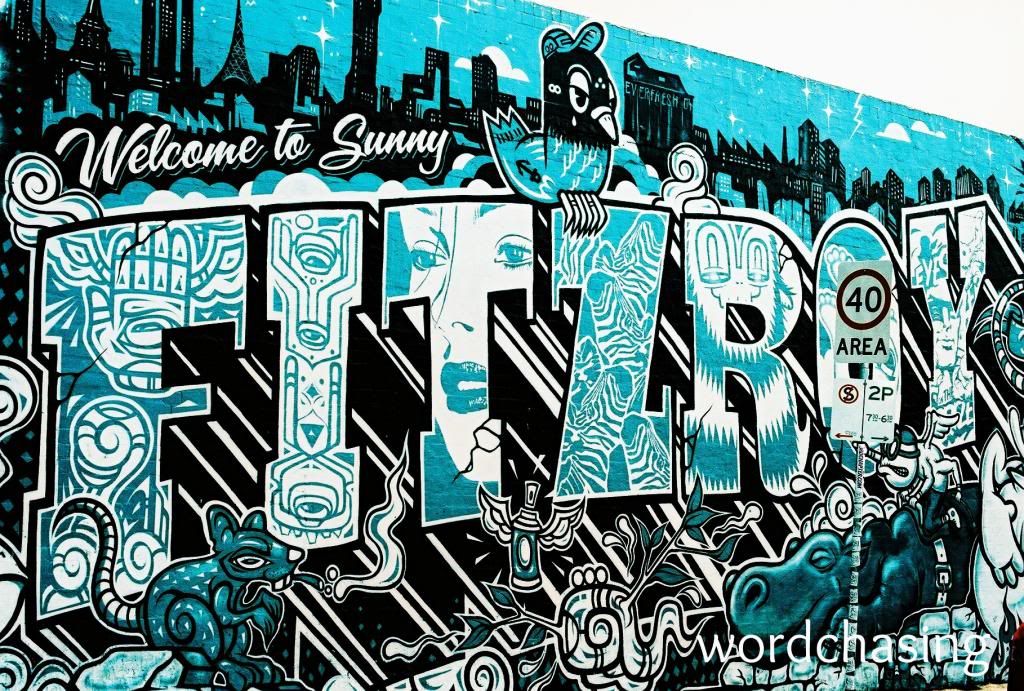 [From top to bottom: 'Welcome to Sunny Fitzroy' mural by the Everfresh crew on the wall of the Night Cat, Young Street (the mural is actually black and white, but cross-processing my film turned it blue); 'Never Enough' by Rone and Wonderlust just off Gertrude Street; Grace Cafe wall, Rose Street.]
Okay, I'm actually taking a punt on the primary setting of Six Impossible Things being Fitzroy, based on mentions of Edinburgh Gardens and Gertrude Street, though I'm not sure it's stated directly.
Fitzroy is allegedly the oldest suburb of Melbourne, and lies just north-east of Melbourne's CBD. It covers a tiny area, but what it lacks in size, it makes up for in character. This is Melbourne's bohemian heart; a vibrant pastiche of cultures, art, music and activism. That said, like most of Melbourne's inner suburbs, it has undergone significant gentrification in recent decades, diverging somewhat from its working class origins. The socio-economic variance is more notable now – public housing estates, hip converted warehouses and historical terraces standing side by side.
[From top to bottom: Brunswick Street; mural near Lost & Found Market, Collingwood; 'Unstoppable' by Rone, Rose Street.]
Fitzroy is flooded with street art. From small paste-ups and stencils to huge murals covering building-sides, the walls here are loud with the voices of some of Melbourne's most prolific artists. Given the temporary nature of most street art, the suburbs streets and laneways become an ever-changing canvas: murals tagged over, paint disappearing under new layers, weathered paper peeling away from brickwork. While not exactly fleeting, they do give the area a feeling of constant evolution – there's always something new to find, something different around the corner.
If you've ever seen a TV show or movie filmed in Melbourne, chances are you've caught a glimpse of Brunswick Street, Fitzroy's major north-south arterial. The 112 tram shares the road with motorists, cyclists (and pedestrians, unofficially), meaning it's in a near constant state of congestion bustle. You want something, you'll probably find it here. Alternative boutiques. Rare records. Rave pants. Incredible vegetarian/vegan cuisine. Jewellery made out of Scrabble letters. A tattoo. A set of ancient dumbbells..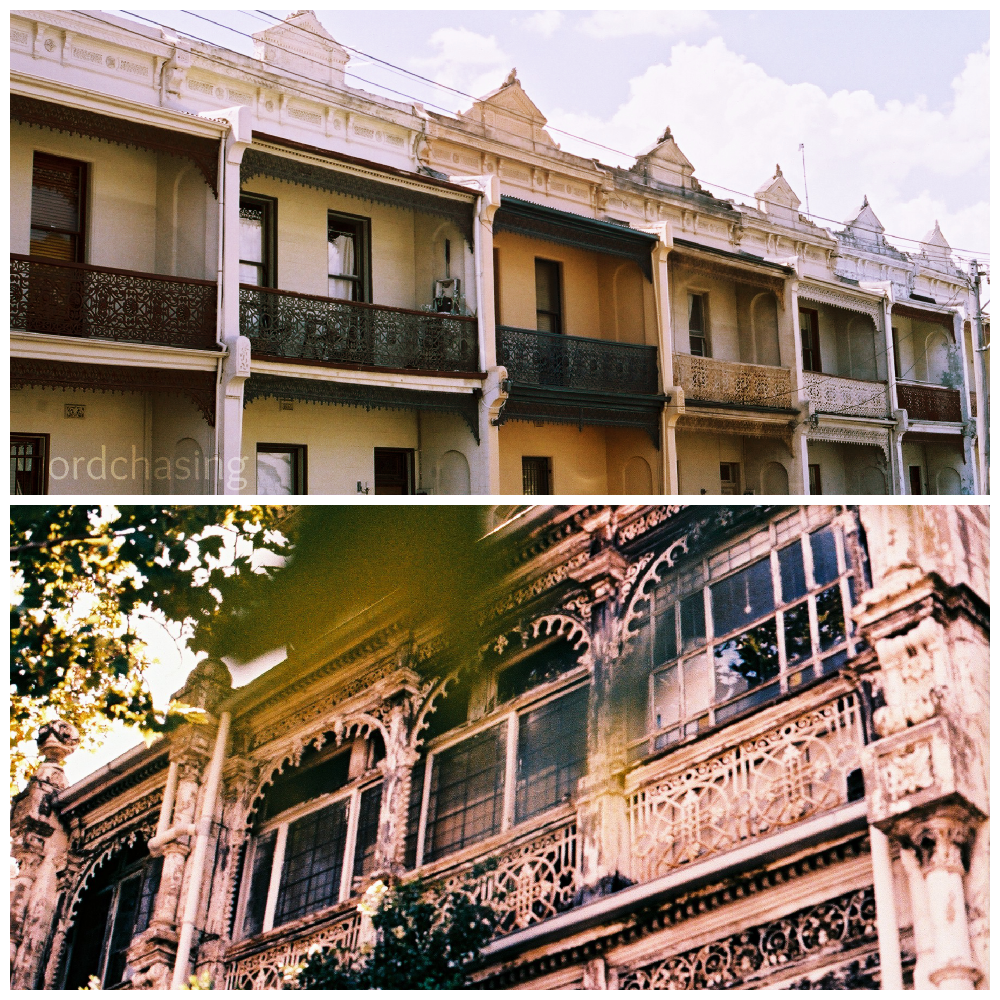 [Sights around Brunswick Street, Fitzroy.]
I couldn't find a building that looked quite like the house Dan and his mum move into, but there are plenty of examples of original architecture from the mid 1800s. (Melbourne is a young city).
Tucked in alongside the terraces and cottages are narrow lanes and hidden cafes, studios in sheds that are sweet with the smell of spray paint. A flamboyant building on Gertrude Street is painted in lilac and leopard print, another tucked down a side street is bright yellow and adorned with an enormous prancing zebra. Footpaths outside pubs are cramped with tiny furniture and knots of people holding schooners. Live music pours out of windows and buskers hug the corners. Dusty op-shops stand shoulder to shoulder with espresso dens and community legal services. An elongated human figure with a deer skull for a head reclines along a brick wall, gazing up at a cluster of shoes strung over power lines, hanging idly over the street.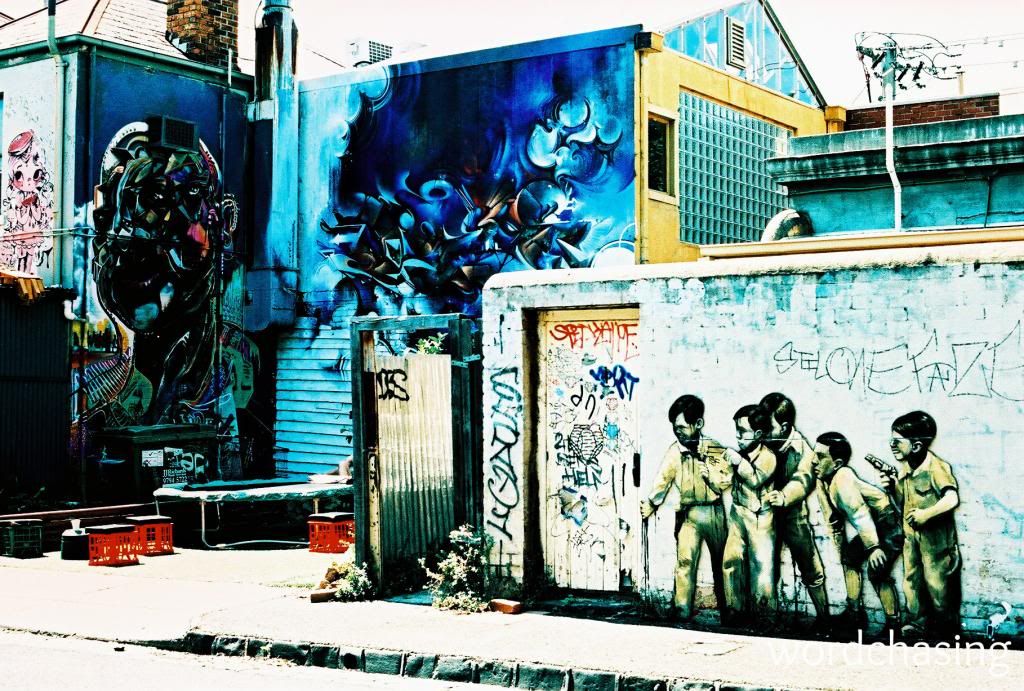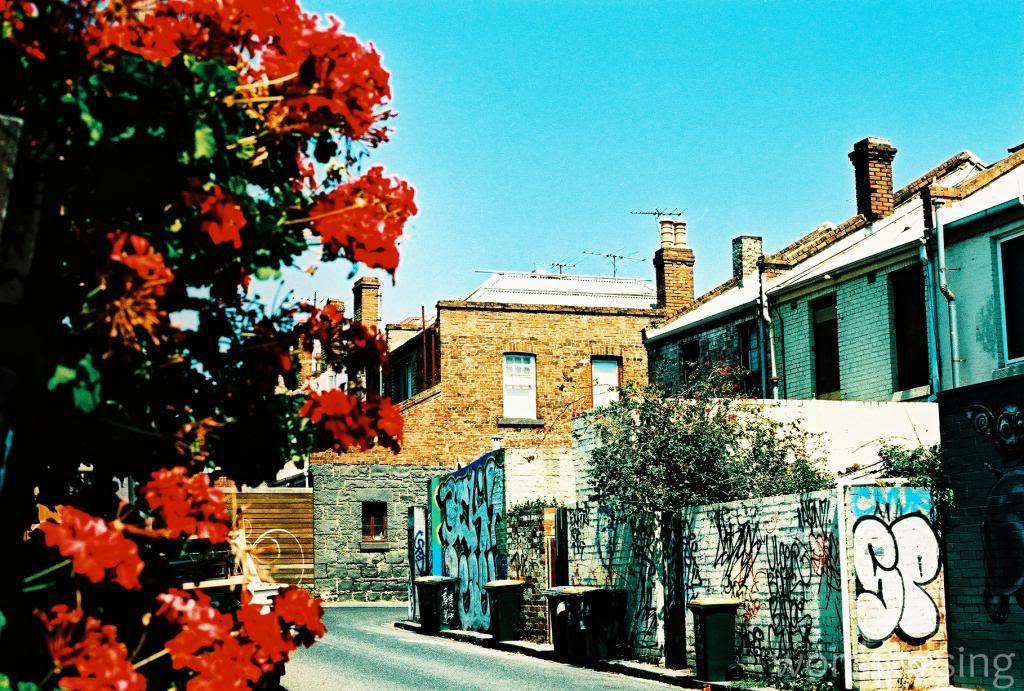 From top to Bottom: Art at Juddy Roller, Fitzroy (yes, that's a trampoline in the cafe courtyard); backstreets of Fitzroy; Smith Street, Fitzroy/Collingwood
[Royal Botanical Gardens and the Tan.]
The Royal Botanical Gardens lie on the opposite side of the Yarra River, just south of the CBD. Notable not only as part of Dan's running route, this is also the scene of the school excursion "cactus incident". (You'll have to read it to find out what happens.)
Unfortunately, most of my photos were over-exposed (the middle of the day probably wasn't the smartest time for taking photos) so I don't have a good shot of the skyline, which is clearly visible from the higher points of the Gardens.
The Tan Track, or just "the Tan" as it's more commonly known, traces the perimeter of the gardens. Though frequented by people of all levels of experience, I tend to stay away from it because serious runners (who flock there in substantial numbers) terrify me. (Note: I am not a serious runner. I am a ridiculous runner. I definitely could not keep up with Dan. People actually lap me around the Tan and it's embarrassing.)
This is just a small glimpse into the world of Six Impossible Things.
"There's this sky I like"…and it's above Melbourne.
[Images by Reynje, taken with Canon FTb and Lomography Diana Mini, using Kodak Elitechrome (cross-processed) and Fujichrome T64 (cross-processed) film.]
Melbourne skyline image from photoeverywhere.co.uk